Houston Midwife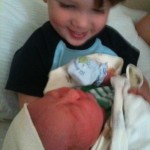 Our Houston home birth with Nanci, our midwife, was wonderful. We had our first son in the Hospital with all of the craziness that surrounds the hospital. When we found out we were pregnant with our second child we decided we did not want to go through everything we did with our first child in the Hospital.
We started to look for a Houston midwife, I have a friend who had 2 children with another midwife and she recommended Nanci to us. From the first time we met Nanci we felt completely at ease with her. Nanci is very caring, very knowledgeable and such a sweet person. Everything just felt right about having her as our midwife.
The birth with Josiah, our second son, was great, very quick, and the best thing was how personal it was. The end of your pregnancy, when your miserable and tired of being pregnant and the only thing your looking forward to is holding your baby in your arms, will be the best experience of all. That is why I loved our home birth with Nanci. No one is trying to take your baby away from you, you are the first person to hold that sweet little baby in your arms, there is just such a peace in the room when everything is done, and you have the comforts of your home.
Thanks again, Nanci.  You are a wonderful midwife.