I found Nanci through her website in the summer of 2012 before moving to Houston. My husband was retiring from the Air Force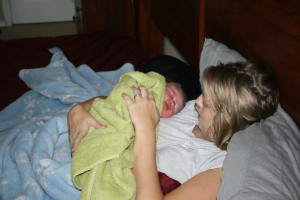 and we would be moving to Houston in a few months. I found out I was pregnant during this transition. My previous three kids were born in hospitals, but a homebirth had always appealed to me. I spoke to Nanci on the phone and she was very nice and answered all my questions. We kept in contact via email about my pregnancy and the care I was receiving in the meantime. 15 weeks into my pregnancy I had a miscarriage. Nanci sent me a very thoughtful, understanding email that really helped me through that time.
So, when I found out I was pregnant again a few months later I called Nanci right away and set up my first appointment. She was fantastic throughout my pregnancy! I never felt rushed at our appointments. She always made sure all my questions were answered, even if I felt they were silly ones. She even let me come in short notice just because I was worried and wanted to hear the heartbeat. I had anemia at the end of my pregnancy and I was glad she kept a close eye on it and helped me get my numbers up. She was very encouraging.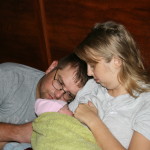 On the evening of August 23rd I went into labor and we called Nanci when everyone (but me, ha!) was sure it was the real thing. Nanci was great! She discussed things with me, checked on me while also giving me space to labor how I needed to, and handled my cervical issues (nothing serious) calmly and always let me know what was going on or what needed to be done. When I was pushing, I was having a hard time and she was very encouraging and helped me visualize what I needed to do and talked me through it.
On August 24th, 2013 after about 12 hours of labor my daughter, Savannah Rose, was born weighing 7lbs 8oz and 22in long. Giving birth at home was better than I imagined and I'm so glad we chose Nanci to be our midwife!