Sophia Renee Guzman's Birth Story
Our birth story began on a Friday evening in June. Although the flow was slow, I could have sworn my water broke. I called Houston Midwife Nanci Stanley to let her know and she told me to try to relax and that she would check in with us the next morning if she didn't hear from us sooner. The next morning, nothing had changed. No contractions. Nanci, who was the midwife I selected in Houston, TX, came over in the afternoon to check if any amniotic fluid was present because if it had been and there were no contractions, we would need to go to the hospital. This was the worst news to me. A relatively unemotional person like myself, was shocked at how sad this made me. Luckily, there was no fluid present when Nanci checked and the waiting game resumed.
After the emotional roller-coaster of Saturday's hospital scare, Sunday was pretty uneventful. Then Monday morning at 1:30 a.m. I woke up thinking I had to go to the bathroom. I quickly went back to sleep however. At 4:30, I woke up again (my husband just happened to already be awake) again thinking I had to go to the bathroom. I showered for work and thought this was going to be a rough day due to indigestion and the general uncomfortable feeling of being so pregnant. I could not have been more mistaken about the indigestion. Within half an hour of waking, the contractions were so intense and coming so fast relaxation did not seem to be an option. Hypno-birthing went out the window. The waves began at 2 minute intervals and lasted 30 seconds each. Nanci had given me a somewhat stern warning that my labor was not "real" until they were reliably 5 mins apart and lasted a minute each, so my husband and I waited to call her for about half an hour. After that 30 minutes, it was so unbearable I thought something must be wrong. Instead of the muscle contractions I expected, the entire feeling was in my lower back (she was turned the wrong way). Thomas Halpern's Ocean Suite followed my hypno-birthing out the window… Oh well, sometimes the best laid plans go to waste.
Houston Midwife Nanci Stanley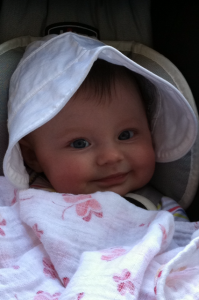 Thank God my Houston Midwife Nanci Stanley arrived shortly thereafter. Everything improved once she arrived. In the future, we would call her earlier. Since I expected this whole process to last 8-12 hours, I was really worried about not being able to make it and needing to go to the hospital for the worst of all situations – pain medication. When Nanci checked me however (this is about an hour and a half into the time frame I knew I was in labor), I was fully dilated and ready to push. Hearing that was such a relief because then I thought I could make it. We quickly moved into the birthing pool where the rest of the work took place. Instead of the 8-12 hour labor I expected, it was only going to be a few hours – it ended up being about 4.5 hours from "maybe I need to go to the bathroom" to "baby is here!". So, while it was faster and the back labor was harder than I imagined, the whole process was efficient and I am so glad we stayed at home. In the end, Sophia came into the world at home and into our arms with no interventions. She is the calmest sweetest thing I ever could have imagined. We are all so happy!
We will forever be thankful to Nanci for the awesome work she performed as my midwife, and for being there for the most important moment in our lives. Iwould definitely recommend Houston Midwife Nanci Stanley to anyone considering natural birth. Homebirth is the best decision we ever made.
Sophia Renee Guzman was born at 9:15 am Monday morning at home in the birthing pool. She weighed 5 lb 7 oz and measured 18.5 inches.